Welcome to Mudsock Quilters Guild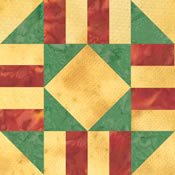 Mudsock Quilters Guild (MQG) is a not-for-profit organization designed to bring people together with a love of quilting.
We welcome all levels of experience and there is something here for everyone.
MQG meets every second Monday of the month at the Fishers United Methodist Church in the Fellowship Hall behind the Church's main building. The meeting starts at 9:30am and lasts 2 hours. The Church is located at 9691 East 116th Street, Fishers, Indiana.
Announcements
MAY GUILD MEETING
Our next meeting is May 8 at our usual meeting place at Fishers United Methodist Church. We will have a presentation and demonstration on how to make T-shirt quilts. Our presenter will be Marlene Sowatzke. She has prepared several samples and handouts on how to do our own T-shirt quilt. We will plan to do the demonstration starting at 9:30 am, so those that have to leave early do not miss the presentation. Looking forward to seeing you then!
Submitted by Sandy Metzger, program chair
Attention Amazon Shoppers!
If you are an Amazon shopper, use this link to have your Amazon shopping benefit go to Mudsock Quilters Guild.
Be sure to sign in to Amazon via smile.amazon.com when shopping, to allow Amazon to donate to our Guild. I recommend saving smile.amazon.com to your bookmarks to help you remember to use the right website when shopping. — Joanne Fishburn
BUS TRIP MISSOURI STAR QUILT
UPDATE – April 16, 2017
MARK YOUR CALENDARS and save your pennies.
We have a SPECIAL trip planned for you, as a guild member.
Oct 10, 2017 we will be departing Fishers on our way to Missouri Star Quilt Co. in Hamilton, MO
Oct 11 we have all day to shop in the MSQC stores, then sit down & relax with a catered dinner then afterwards we have a wonderful treat,
Jenny Doan is scheduled to present a trunk show and WE are invited.
Oct 12 we will make our way back home.
Deposit to hold your spot is $100 with the total cost being around $250 for double occupancy.
This includes bus, hotel, & MSQC tour & one dinner & trunk show.
More information will be provided at the next meeting.
There will be a sign up sheet and checks will be accepted for the deposit, at the May meeting. If you will not be able to attend the May meeting, contact Lois Levine or Becky Moore to sign up or with any other questions.
We will NOT be accepting PayPal for this event due to the associated processing fees.
Mudsock Annual Tag Sale
Each month members donate fabric, sewing supplies, patterns, yarn and miscellaneous sewing and quilting tools. At the regular monthly meeting members are given the opportunity to buy these items at a greatly reduced price. The items that are not purchased go into storage. Members are asked to price their items with suggested prices of $4.00 per yard of fabric, $1.00 for fat quarters and other items at 25% of the original price.
This year's sale will be held on September 9th at the Fishers United Methodist Church.
All the items in storage are displayed on tables and arranged by price in a fun-filled shopping event open to the public.
The 2016 Tag Sale and monthly sales totaled over $2,000. This is our biggest fund raiser and helps tremendously to support our guild educational presentations.
Community North Quilting Bee
Quilts will be distributed to patients in Community North Hospital on Christmas day.
Donated fabrics are used for table tops and funds are available from the Women's Auxiliary at the hospital for batting and backs. Just turn in your completed quilt with your receipts with your name on both.
Community North Quilting Bee, meets on the third Monday each month 9:30 – 3:00,  new location and week for meeting, Community Room at Community Health Pavilion, 9699 E. 146th St., Noblesville.
Contact: Diane Peterson (317) 550-9080