This is the first installment in a new series of posts called "Who We Are". This series will highlight different groups or committees within the guild that you might not know all that much about.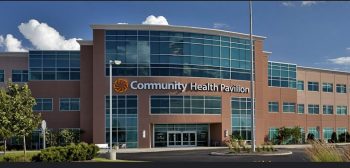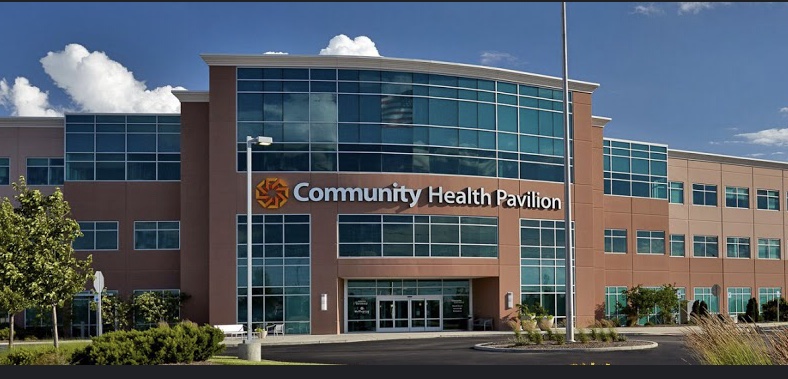 Today's spotlight is on the Community North Health Pavilion storeroom where all our donated fabrics are stored. Each year we make quilts that will be donated to the Community Health Hospital on Christmas Day. To help us achieve this goal the hospital has graciously provided us a store room for our supplies and a conference room for our Sewing Bee. The facility is located at 146th and Cumberland on the southwest corner. When you enter through the front doors you will see the old pharmacy area to the left, a double frosted glass entryway. This former pharmacy is where we store our fabrics, batting, completed quilts, and children's charity items.
Each month the storeroom is open for "shopping" on the 2nd Tuesday of the month, the day after our monthly meeting. What we mean by "shopping" is, you are welcome to come draw from the stacks and shelves of fabrics to create items for the various charities we create for. These supplies are available free of charge to guild members. You can check out these charities on our information page. https://mudsockquiltersguild.org/community-quilts/.
The storeroom operation hours are provided for members to pick out fabric, pick up battings or backings, drop off completed quilts, or for the charity committees to plan and create kits for members to grab for easy charity projects. The basic crew of Sally S, Laurie F, and Linda G are usually on hand to help you find what you need for your sewing needs. If you are stumped on what to make they have several ideas and patterns to chose from. And they are VERY good at "selling" you a project to make.
Every time you visit you will see returned quilts on display all around the room, which are a great inspiration if you are looking for ideas on what to make.
When completed quilts are returned they are recorded on a card with information about the maker and placed into a large zip-lock bag. The are designated for 3 categories: women, men, or neutral. This helps when the quilts are distributed at Christmas time. They pull the appropriate quilt for the patient as they go through the hospital rooms. These quilts are then stored in tubs in a separate room waiting for our annual quilt show in the fall and then the day they are donated to the hospital in December. We usually have more women's appropriate quilts than men, so hit up the storeroom for some manly fabric to help us bulk up our options for men. This lovely panel is going to be turned into a man's quilt, look for its completion at the next meeting. Or come in for a panel to make one too!
In the children's are you can find fabrics appropriate for use in Tummy Time or Quilts for Kids quilts. There are also precut battings to use for these quilts, and be sure to grab backing too. And for those who want to support the Village Project Africa, there are some fleeces that can be used to make bed sized quilts. Check the Charity Guidelines page for info on dimensions of the items requested.
Make sure to stop by on the next 2nd Tuesday of the month to check out the storeroom. You will meet guild members like Cynthia trying to find a project to inspire, maybe see a donation come through the doors, thank you Pam D. And if you're lucky you just might see our mascot Squish! But it's very sure you will walk out with as many projects as the girls can "sell" you and totally forget to get the batting you came in for! Ask me how I know.